Film Review: Crabs (2021) | HNN
SYNOPSIS:
A horde of murderous crab monsters descend on a sleepy coastal town on Prom night, and only a ragtag group of outcasts can save the day.
REVIEW:
What the… am I watching? Directed and written by Pierce Berolzheimer, Crabs, we've seen everything… sharks, piranhas, alligators, crocodiles, bears, you name it, I've seen it. Now we have crabs. The movie opens with a beach sex scene and a giant horseshoe crab who is probably sick and tired of tourists picking it up and posing for photos.
This is hilarious and scary at the same time. We meet Sheriff Flannigan (Robert Craighead), Hunter McCalister (Bryce Craighead), Maddy (Allie Jennings) and Phillip (Dylan Riley Snyder). The Sheriff and his Deputy find a dead whale and they are trying to figure out who killed the whale in the funniest way possible.
Radu (Chase Padgett) tries to warn the people that the killer crabs are on the way, but none of the town people seem to care at all. Radu is trying to warn Phil and Maddy. Maddy is me though, ohhhh it's so cute, let's help it, let's pet the crab. Meanwhile, Radu is tormenting a crab that may or may not be dead?! He should just take off but he doesn't.
Phil is trying to build his legs, he's in wheelchair and wants to walk. Maddy gets her mom to help her build them while Phil goes to sleep. They want to go to the dance together. This is great. The crabs are heading to the dance now. If you thought Carrie was messy, a bunch of crabs crashing a dance is next level. The crab DJ is great.
The sounds, special effects, and little Gremlin/Critter noises the crabs make. So, Radu turns into Rambo, the Rambo of crabs. So, the town is under attack by crabs. They are out and about causing chaos and giving the Gremlins a run for their money. Godzilla versus King Kong!!! NOPE!!! Giant Killer Crab versus Phillip's Giant Killer Robot.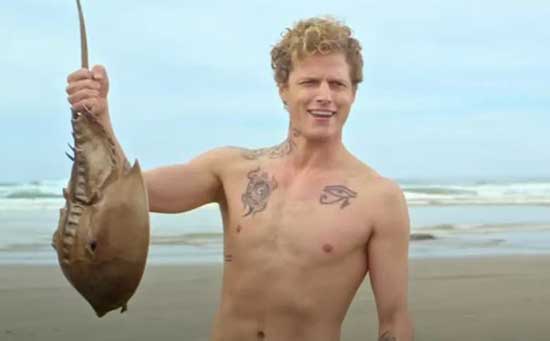 I heard, "WHAT are you watching?"  I said, CRABS… "That's a movie?" It's a Panic Fest movie! Don't count Hunter out. I loved this movie, I'm not even sorry. When is the sequel? There is a song too so watch the credits. I think there was a great message in this movie and horseshoe crabs do not get enough love.
Make sure to check out CRABS!
Make sure to check out Panic Fest 2022.