MTV Awards, 'Watergate' and 'Gaslit,' Angie Harmon in 'Barstow'
MTV celebrates pop culture from all angles with the MTV Movie & TV Awards followed by its Unscripted offshoot. CNN marks the 50th anniversary of the Watergate break-in with a documentary, while the Starz docudrama Gaslit depicts the political scandal's fallout for several participants and observers. Angie Harmon returns to TV in a new movie franchise as a former hitwoman who can't escape her past.
MTV Movie & TV Awards
SUNDAY: Blanketing multiple networks, MTV's annual pop-culture fest presents Jennifer Lopez with the Generation Award and Jack Black with the Comedic Genius Award while burning through quirky categories like "Best Kiss" and "Best Fight" (may the twain never meet). Vanessa Hudgens hosts from the Barker Hanger, while Bachelor alum Tayshia Adams takes over to host the Unscripted ceremony, honoring all things "reality"-based, at 10/9c. Real Housewife Bethenny Frankel is lauded with the Reality Royalty Award, as you'd expect.
Watergate: Blueprint for a Scandal
SUNDAY: This month marks the 50th anniversary of the notorious Watergate break-in that brought down a president's administration (back in the days when corrupt leaders could still be held accountable), so expect more TV remembrances like this. John Dean, the Nixon White House's former counsel turned whistleblower, is again a key eyewitness to history as well as an executive producer. In four episodes over two Sundays, Dean and other insiders walk viewers through the schemes and skullduggery that led to the greatest political scandal of the last century.
Gaslit
SUNDAY: The sensational docudrama that looks at Watergate from a more personal angle delivers its most harrowing episode to date, evoking Who's Afraid of Virginia Woolf? with its brutal depiction of the heated dissolution of Martha Mitchell's (Julia Roberts) marriage to Nixon's former Attorney General, John Mitchell (Sean Penn). With only one more episode to go, things don't look much better for whistleblower John Dean (Dan Stevens), facing legal consequences despite his testimony, and especially for fanatical conspirator G. Gordon Liddy (the outrageous Shea Whigham), whose time in solitary confinement goes loudly off the rails.
Buried in Barstow
SATURDAY: Six years after Rizzoli & Isles solved its last case, Angie Harmon is back in a new TV-movie franchise in about as different a role as you could imagine-as Hazel King, a former hitwoman and single mom cooling her heels as a diner owner in quiet Barstow, California. Things heat up when her former boss, Von (Rizzoli co-star Bruce McGill) shows up right around the time a handsome stranger, Elliot (Kristoffer Polaha), drifts into her life as the BBQ joint's new dishwasher.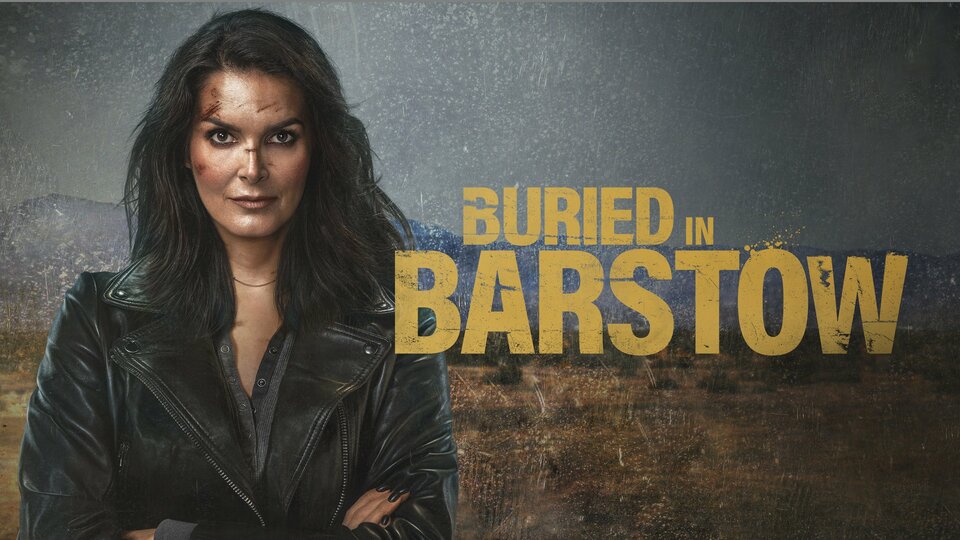 Inside Weekend TV:
Hidden Gems (Saturday, 8/7c, Hallmark Channel): Not to be confused with Adam Sandler's Uncut Gems, this Hawaii-set romance kicks off the channel's destination-driven "Summer Nights" movie franchise. Hunter King stars as the maid of honor for her sister's wedding who loses her grandmother's ring in the island's beautiful waters. Enter a dive instructor (Beau Mirchoff) who may get her thinking about taking the plunge.
Fear the Walking Dead (Sunday, 9/8c, AMC): The zombie thriller's revolving door turns again in the Season 7 finale. We've barely said goodbye to Alicia (Alycia Debnam-Carey), and now Morgan (Lennie James) encounters a new ally. Could it be the long-awaited return of Alicia's long-thought-dead mom, Madison (Kim Dickens)?
The First Lady (Sunday, 9/8c, Showtime): While Eleanor Roosevelt (Gillian Anderson) and Michelle Obama (Viola Davis) refuse to stay on the sidelines when issues erupt -Jewish refugees during WWII for Eleanor, violence against Blacks for Michelle-a post-election former First Lady Betty Ford (Michelle Pfeiffer) learns that "retiring in paradise" in Palm Springs leaves much to be desired.
The Great Food Truck Race (Sunday, 9/8c, Food Network): The cooking competition goes to the beach for the 15th season, starting with California's Laguna Beach, where nine teams bring the heat by creating dishes with colorful and spicy hot peppers.
Very Scary People (Sunday, 9/8c, HLN): A fourth season of the true-crime series, hosted by Blue Bloods' Donnie Wahlberg, opens with the story of the "Ken and Barbie Killers," aka Ontario serial killers Paul Bernardo and Karla Homolka.
Devil's Advocate: The Mostly True Story of Giovanni Di Stefano (Sunday, 10/9c, MSNBC): More true crime in a three-part docuseries (concluding June 12 with part 3) that profiles the English fraudster who became famous, then infamous, advocating for the likes of Saddam Hussein without benefit of legal qualification.
Ziwe (11/10, Showtime): The offbeat variety/talk show takes a pause with a midseason finale, when Ziwe celebrates LBGTQ+ Pride Month with drag queen Katya Zamolodchikova and learns how to vogue.