Time and Tru Platform Footbed Sandals I Editor Review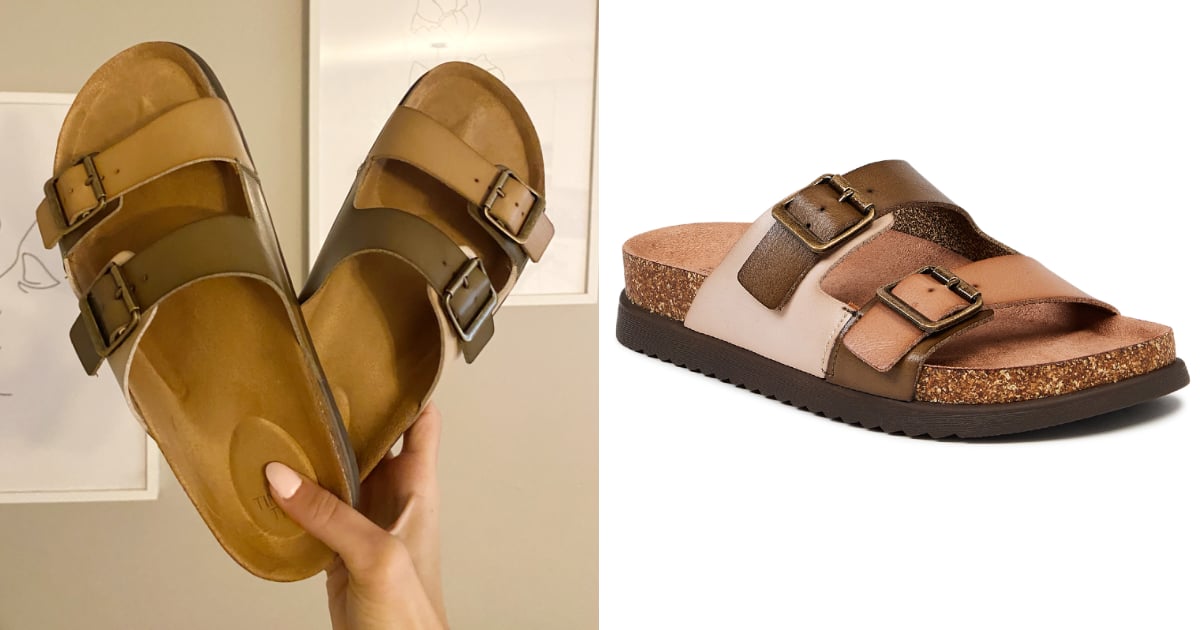 Without mentioning a particular shoe brand, I think it's safe to say we're all familiar with a certain sandal *hint hint* featuring a contoured cork footbed. In all honesty, I was never big into the trend until recently, when I spotted a similar style for under-$20 at Walmart. Enter, the double-buckle Time and Tru Platform Footbed Sandals ($17), with almost exclusively five-star reviews. Curious to see if I'd be into them, I thought, "what the heck," and added the tan colorblock design to my virtual shopping cart. My honest thoughts, ahead.
What I Like About These Sandals
I'm surprised by how much I like these casual sandals. When I added them to my cart, a part of me wondered if its overwhelmingly positive ratings were too good to be true, but – spoiler alert – they're not. I put them on just minutes after they arrived at my doorstep and proceeded to wear them all day while working from home to get the full experience. I was taken aback by how quickly the memory-foam footbed adjusted to the shape of my foot, so that when I slid it off and slid it back on, it was perfectly molded to my foot and thus, super comfortable.
What Occasion Are These Sandals Good For?
These comfortable sandals are the definition of versatile. I can see myself slipping them on to take my dog for a walk just as frequently as I will to wear 'em for a day on the town with friends with denim shorts and a cropped T-shirt.
What's Worth Noting About These Sandals
Before you add this set to your cart, there are a few important factors to note. First: The reviewers are right that these sandals run a bit big. Depending on the brand, I'm usually a size 9.5 or 10, but I heeded shopper recommendations and ordered a size 9 – they fit perfectly.
Another thing that may or may not be a deal-breaker for you is that they're heavy, which was why a small percentage of shoppers decided to return them. This didn't bother me since I still think they're super comfortable, but I understand why it could be a deal-breaker.
And finally, the color of these sandals look different IRL than they do in the photo. On the website, the sandal is a mix of light brown, cream and dark brown, but in reality, the dark brown is olive green.
Would I Recommend These Sandals?
Yes! Assuming you've noted that they run big, are on the heavy side, and aren't exactly the color they look online, they're certainly a great dupe for more expensive versions. I can't give them fine stars because it's evident they're not perfect, but I know I'm about to wear these on repeat this summer – so four stars it is.
Rating:
Image Source: POPSUGAR Photography / Marisa Petrarca